I got into Buildspace Nights and Weekends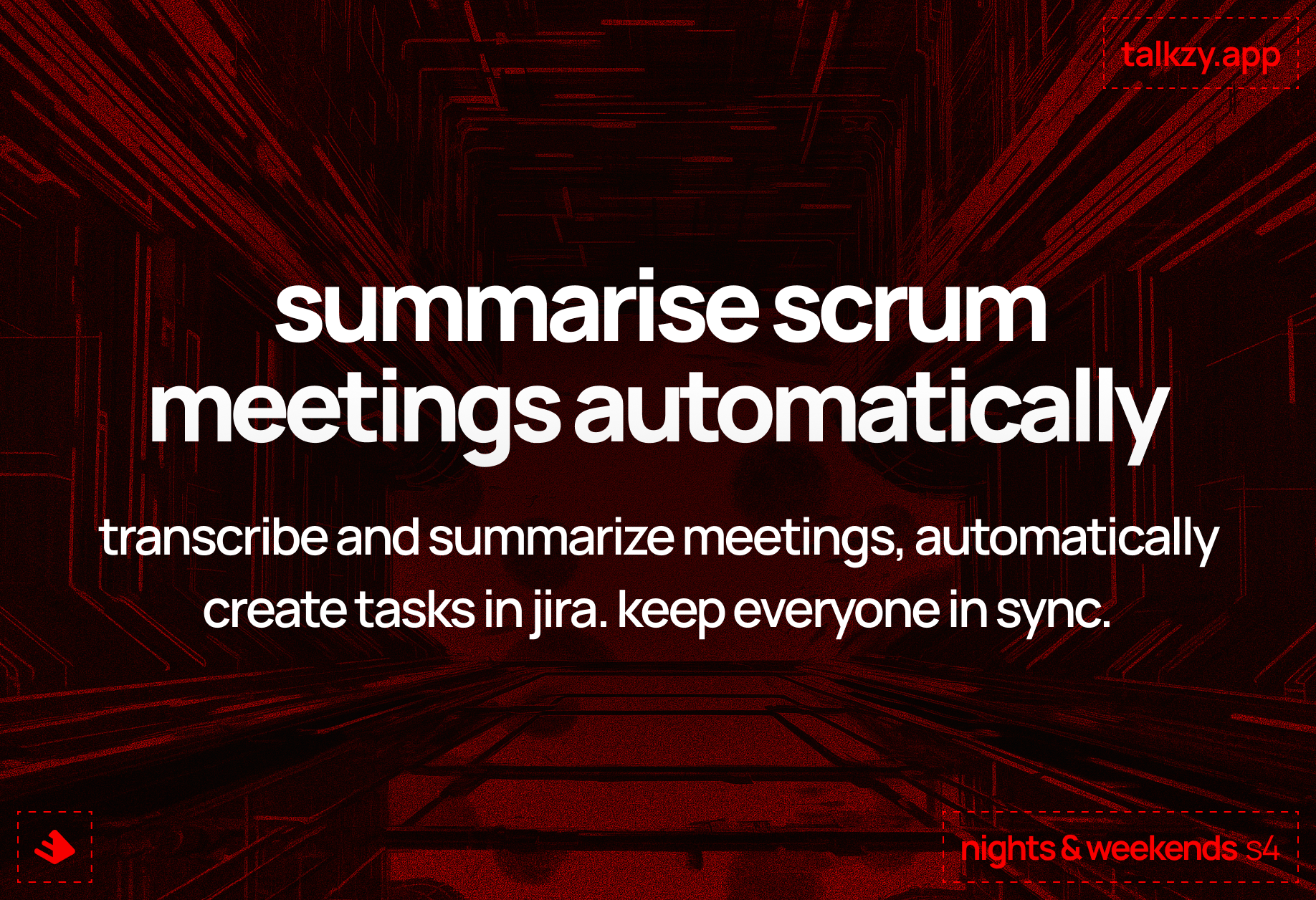 🇬🇧
There's also an English version of this post at the end.
Un compañero de mi uni compartió un enlace sobre algo llamado "Nights and Weekends", y trata básicamente sobre construir un producto por las noches y los fines de semana. Y me moló la idea, apliqué un poco fuera de tiempo y me dejaron entrar en el último momento. Y estoy súper motivado :-))
He decidido usar Talkzy para motivarme a seguir desarrollándolo. En esta primera semana hemos tenido que hacer pública nuestra idea a través de un poster: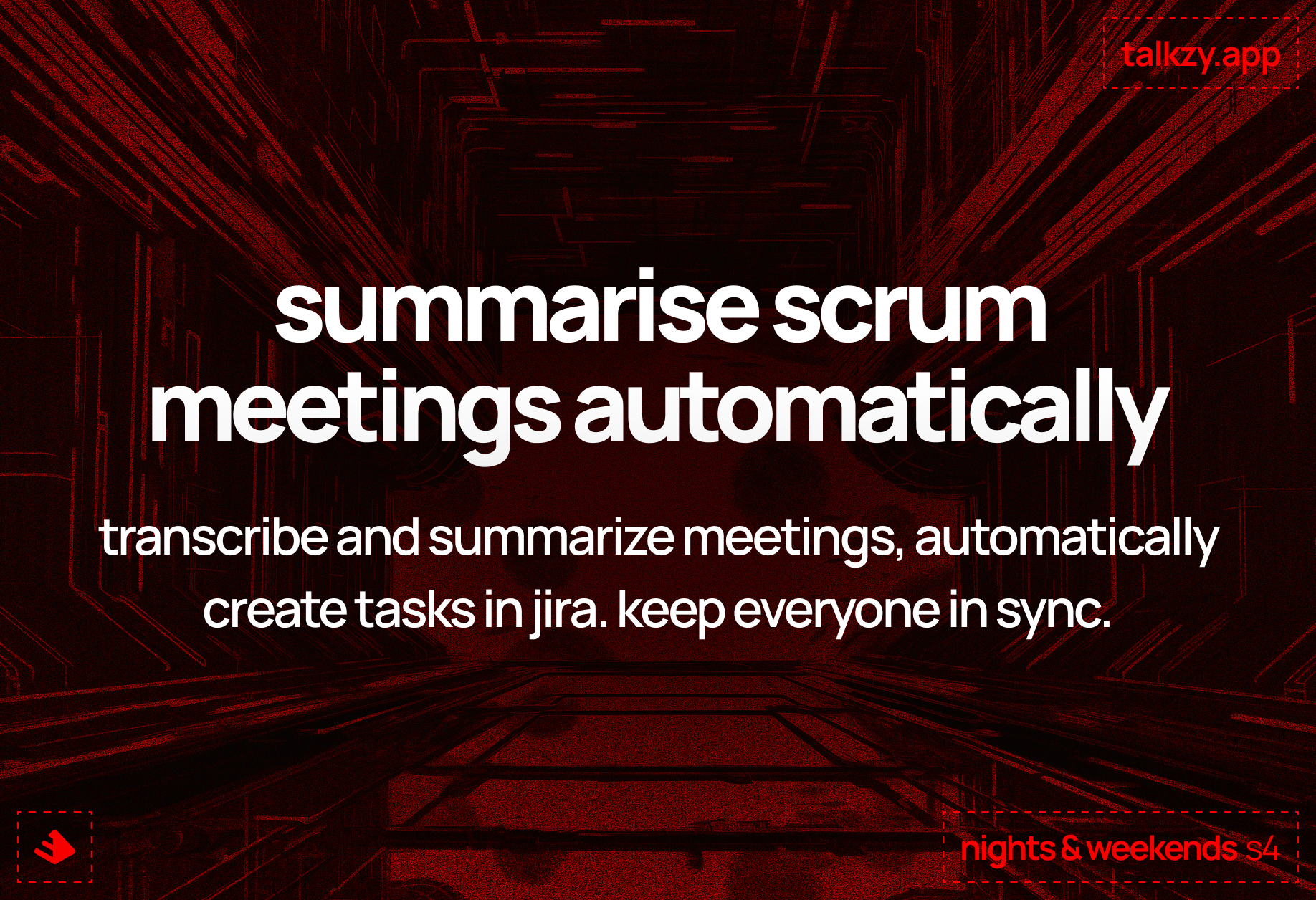 Mi objetivo durante las próximas 5 semanas será el desarrollo de los siguientes puntos:
Añadir soporte para Microsoft Teams
Prueba del producto actual con una empresa externa
Añadir soporte para Webex
Añadir vocabulario personalizado
Envío personalizado de los resúmenes: definición de destinatarios y contenido del correo
Añadir webhooks para desarrolladores
Soporte para multi-idioma: Inglés, Español, Alemán, Francés e Italiano
Conectar a JIRA para creación semi-automática de issues
Conectar a Asana para creación semi-automática de issues
Conseguir 10 clientes de pago
Además, mi idea es hacer varios streams mientras programo ciertas partes de la app para seguir haciendo todo en público. ¿Te unes?
---
A colleague from my university shared a link about something called "Nights and Weekends", it's basically about building a product during the nights and weekends. I loved the idea and I applied almost instantly, even if the time to apply had already finished. I got in in the last second and for now, it is giving me tons of motivation that I was losing over the past weeks 🙌
I decided to build Talkzy and finally get it done. This week we had to make the idea public and prepare a poster: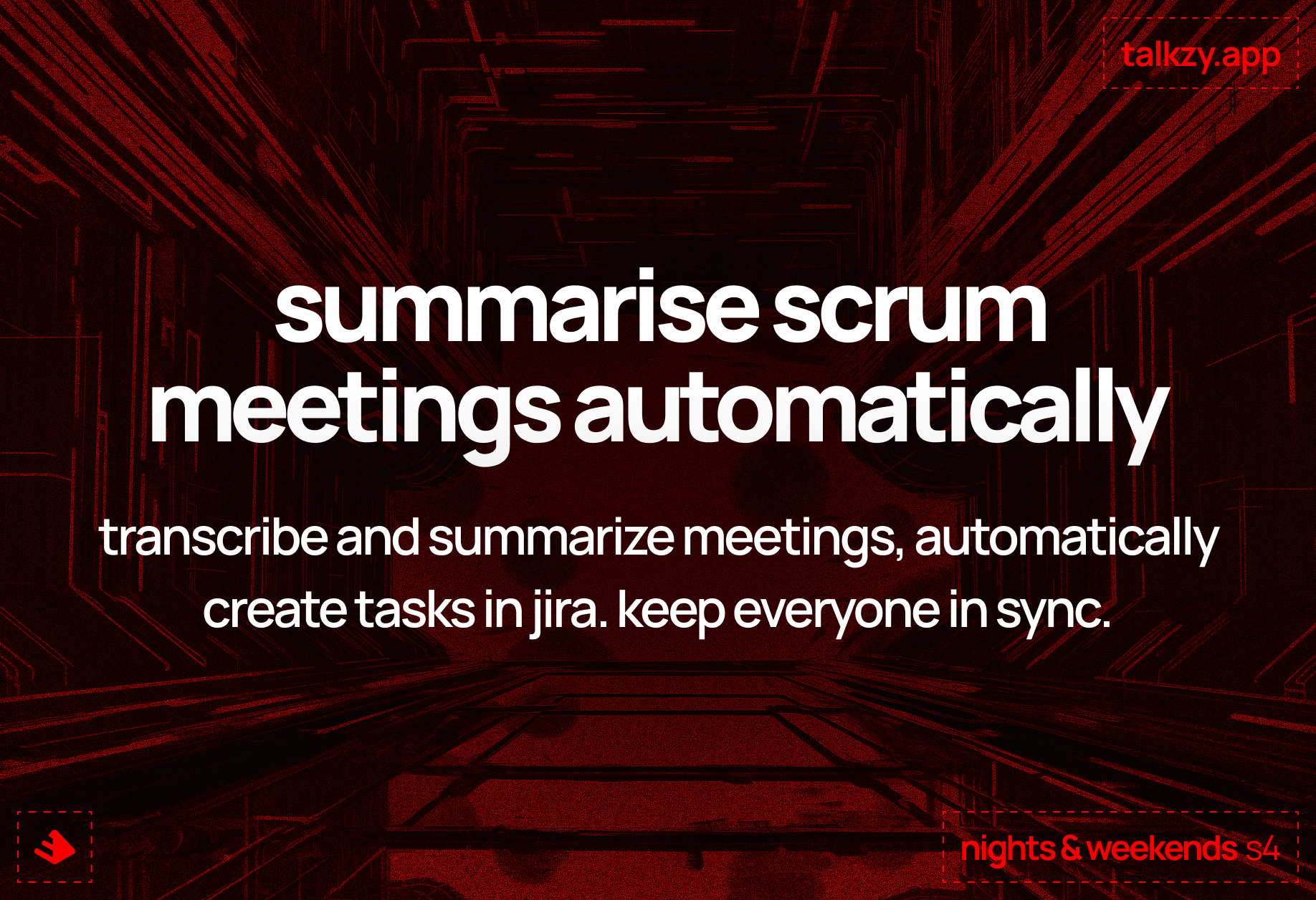 My goal for the next 5 weeks is as follows:
Add support for MS Teams
Try the current product with a real external company
Add support for Webex
Add custom vocabulary
Custom summary delivery: define the recipients and the mail content
Add webhooks for developers
Add multi-language support: English, Spanish, German, French, and Italian
Connect to JIRA to semi-automatically create issues
Connect to Asana to semi-automatically create issues
Get 10 paid clients
I think it's pretty ambitious but I'm up for the challenge. I'll be live-streaming some parts of the development so feel free to join me